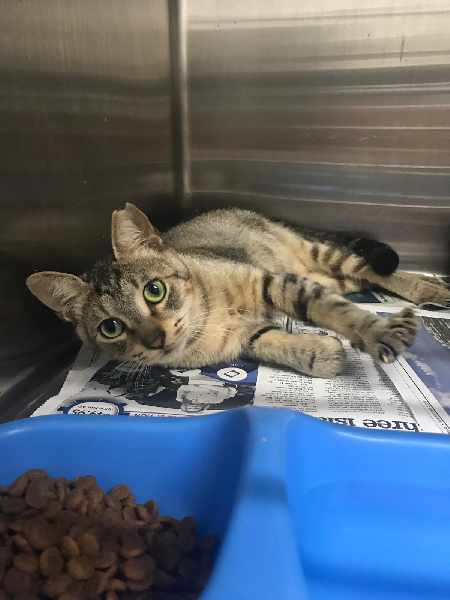 This week's Pet of the Week is Billy the Cat. When you walk into the Cayman Islands Humane Society cat room, Billy will be roaming free. You can't miss him as he is a beautiful light brown tabby cat with huge emerald green eyes. Billy is only a small cat, in fact, he is so small I thought he was a girl and he has the prettiest little face.
Billy was originally a stray cat living wild, but Cayman Islands Humane Society volunteer, Laura, socialised him and got him neutered and vaccinated. This is important as it means he will not create any unwanted kittens and he will stay healthy and can be around other animals.
How many Kittens can one cat create in one year?
According to thenest.com, one female cat can produce an average of about 12 kittens each year if not spayed. To avoid unwanted kittens, spay or neuter your kitten or cat. Don't be fooled, your sweet little 5 month old kitten is quite capable of breeding so make sure you ask your vet when it can be spayed or neutered. Laura already has 4 cats she has adopted so she couldn't keep Billy, but she knows he deserves his own loving forever home. She brought him to the shelter where he has been for the last two months.
Billy is a little bit shy, but once he builds up enough trust he will come right up to you for a cuddle as you can see in the video below. So please visit the Cayman Islands Humane Society cat room this weekend and ask to see sweet little Billy. You will not be disappointed. As always, if you can't adopt please share this post.