This week's blog focuses on my favourite day of the week, Caturday!
If you don't know what Caturday is, it's like Saturday but better as it involves, yes you guessed it, CATS! Caturday started back in the early 2000's with people posting cat memes to pages like 4chan and since then it has spread across social media. You basically take a picture of your cat, sometimes with a silly caption, but always with the hashtag #caturday. Click here for more Caturday Memes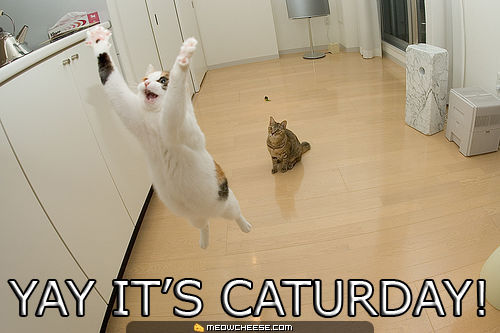 This week we challenge you to visit the Cayman Islands Humane Society and make your own #caturday memes. While you are there you can ask the kitten and cat experts on hand questions about:
spay and neuter
vaccinations
indoor vs outdoor cats
what food to feed your cats
and of course which type of cat will best suit your lifestyle? It is kitten season right now, so if you are looking for a sweet kitten to add to your home, pop by and check them out. There are also some beautiful larger cats looking for adoption. Slightly older cats make wonderful companions as they do not play as hectically as a little kitten does and they really enjoy cuddles and hugs. So visit the Cayman Islands Humane Society, this Saturday, 10 am- 2 pm, get some great #caturday pictures for your Instagram account and who knows, maybe take one or two home with you! Kittens and cats will be 2-4-1 ALL DAY. If you do take some Caturday pics, please share them on our Bob FM Facebook page, we would LOVE to see them.